Your health should be your top priority 24 hours a day, 7 days a week. But for individuals that manage chronic illnesses or who have recently suffered an injury or medical event, staying on top of your healthcare is easier said than done. Especially when you have a team of multiple medical professionals giving you direction, even handling your most basic health needs can be confusing.
Having someone to help implement your care plan, manage your medications, and show you how to do those things on your own will make a world of difference in your day-to-day life and overall health. For patients, Rehabilitation One Home Healthcare's in-home nursing care services offer the perfect solution.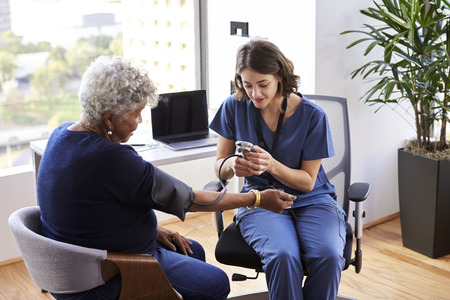 Locally-Owned and Operated Nursing Care for Dearborn, Wayne-Oakland and Macomb counties
Our in-home nurses provide skilled and compassionate care to help you follow your individualized treatment plan while still maintaining as much day-to-day independence as possible. They will coordinate and correspond with your physician, case manager, and anyone else on your healthcare team regarding your care plan.
Your Rehabilitation One Home Healthcare nurse will learn about your condition and medications, evaluate your home environment, as well as get to know you as a person, so that they are able to help you better manage your health, according to your treatment plan, in a way that works for you. This includes managing your medications, as well as providing hands-on care and education to help prevent unwanted hospital visits.
Our patient-centered in-home nursing care services are designed to help you take control of your treatment.
The goal of our nursing care services is to teach you how to evaluate your condition, make healthy lifestyle choices, and recognize when an aspect of your treatment is not working for you. Your in-home nurse will help you feel confident about following your healthcare regimen and figure out how to best meet your needs. This is all to prevent future declines in your health and, ultimately, to improve your quality of life.
With over 10 years of experience in the Michigan home healthcare industry, no team is better prepared than Rehabilitation One Home Healthcare to help you take charge of your medical care and live a satisfying, independent, and healthy lifestyle. If you're ready to learn how to manage your healthcare needs, give us a call at 313-565-2224 to discuss in-home nursing care today!